Monthly Board Meeting - Feb 15th 8:00 pm at the Hattendorf Center
FROM THE PARK DISTRICT - DO NOT SHOOT THE MESSENGER
*** IMPORTANT *** PLEASE READ ***We want everyone to be prepared for registration, as the process will be a bit different this year. The Elk Grove Park District has a new software system for registration and everybody has to setup a new account with us. Some of you may have already done this if you've registered for something after November 28th. This must be done in person with Customer Service at one of our facilities. If not done prior to Registration Day, this may cause delays or inability to complete registration if the necessary documents are not present at that time. 
Each new account in this system will have to show the following:Proof of Residency (Residents and Non-Residents) Adults 18+ (choose one): Current resident utility bill, property tax bill, current drivers' license or government issued ID, or Passport.Dependent Children under age 26 (choose one): Birth certificate, health insurance card listing the minors, or Passport.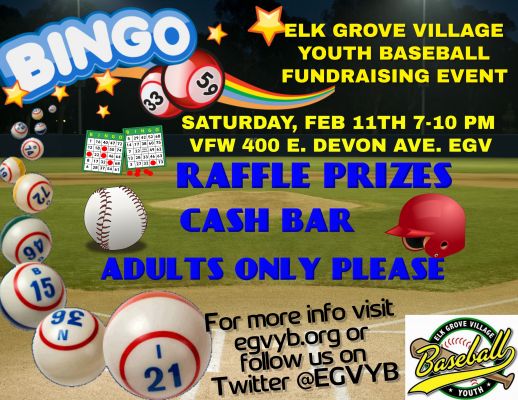 IMPORTANT!! : While all the location, date and time details are not yet final, we have opened registration FOR WINTER TRAINING 2017.  Space will be limited to 15 players/level. Once the space is filled, there will be a waitlist for additional sessions. The training is run by volunteers, so if we have players on the waitlist we will need additional volunteers to open a new session. We need at least 3 trainers/session.
Location: EGV - TBD
Start date – Approximately January 9.
Practices - 2 hours /1 day / week (either a weekday or weekend); 10 -12 total practices.  Date and Time are still TBD

COST: $75 / player (resident)

 - increase this year is to cover cost of balls, new tees, and storage of equipment
Misc: if you register and the day of the week that is planned does not work for you we can work to find another session or refund your registration before the second week of training.
Easy to register at the Pavillion or hotreg https://hotreg.elkgroveparks.org/Start/Start.asp
Level: register your player for the level they will play in the 2017 season
Level                       Resident                 Non Resident
Pinto                        98298                                     98295
Mustang                   98297                                     98293
Bronco/Pony             98296                                     98294

Scoreboard

Schedule

Sponsors

Social Media 
Follow us on Twitter      @EGVYB
 Follow us on Facebook 
Standings

Statistics

Mission Statement
Elk Grove Village Youth Baseball will provide a healthy environment for the youth of our communities. Our focus is to encourage participation, develop character and discipline, promote teamwork, and advocate citizenship and community pride. We will strive to provide quality instruction in the development of baseball skills,  sportsmanship, competitiveness, and fair play. Elk Grove Village Youth Baseball is committed to enriching the lives of our youth while cherishing the love for the game.